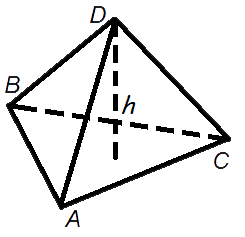 Pyramid is a polyhedron whose base is polygon and other faces is triangles with a common vertex.
The volume of a pyramid is equal to one third of the product of the area of its base times the height.
The volume formula of a pyramid
где
V
- the volume of a pyramid,
Ab
- the area of the pyramid base (
Online areas calculators
),
h
- the height of the pyramid.
This free online calculator will help you to find the volume of a pyramid.
To find pyramid volume
Enter the length of the height and the base area the of pyramid:
You can input only integer numbers or fractions in this online calculator. More in-depth information read at
these rules
.